Following a ride in a Caterham Seven at a track day I was determined to own one of these 'Lotus 7' kit cars. The Caterham was outside of my price range (£20K+) but I found there were other companies that built the 'Lotus Seven' type kit cars and when a good friend told me he wanted to sell his Robin Hood Superspec I jumped at the chance.
I knew the vehicle had been laid up for a year and probably needed some work, but I wanted to buy it not just to drive but also to tinker with, not something that is possible with modern cars.
So, I picked up the car and drove it back home. Very challenging, as I hadn't driven a manual car for a long time and the clutch was very fierce, being either on or off.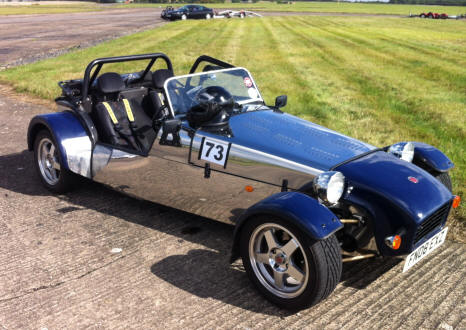 The car was already taxed and had a new MOT so there was nothing urgent that needed doing so I took the opportunity to take her on a track day at a nearby airfield. Great fun although at the end I felt sorry for her being 'thrashed' going around corners.

There is a video of the track here, This wasn't me as I don't have a camera fitted (yet) and his driving is better than mine. He does it in 62 seconds and I took 72 seconds.

I joined the Robin Hood Owners Club and have to say it was the best decision I ever made. Apart from a multitude of discounts available the depth of knowledge is incredible. Any question I asked on the forum was promptly answered with really good advice. In fact, without the help from the Club Members and E-Bay to buy the parts I needed, I think I would have been totally lost.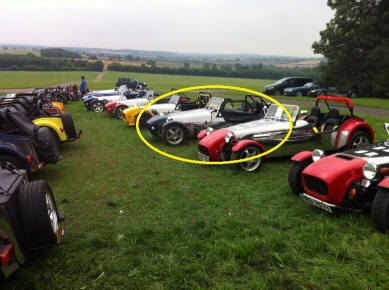 Early on I also went to the Donington Kit Car Show and the annual Robin Hood Club meeting to meet up with other Robin Hood owners. And I am now a regular visitor to the Newark AutoJumble show.
TimeLine:



2002 Car kit bought by original owner
2005 Car purchased by second owner as partially built.
2008 Car build finished and passed it's SVA (Special Vehicle Approval)
2013 I bought the car as a finished built, fully MOTd and taxed.

After a few weeks of most enjoyable driving I highlighted the following things that probably needed to be fixed. Luckily none of them was safety critical and most seemed to be something I could tackle. This was a relief, as if the car had been perfect I would have been rather bored fairly quickly.

1. The Ride height was much too low. I found that I was grounding the sump regularly, particularly with a passenger on board.

2. The previous owner had actually holed the sump and although it had been repaired by welding an alloy plate on it still dripped oil a bit.

3. The Clutch cable needed replacing as it was a temporary fix by the previous owner and was extremely stiff.

4. The basic design of mating a Rover 'T' Series 2000cc with a Ford MT75 gearbox was not a good design and the home-made clutch thrust bearing rattles. This is a major 'engine-out' repair so I decided to leave it until it actually blew up. Apparently it could last for years like that.

5. The steering bushes were perished.

6. The bottom universal joint on the steering column had excessive play.

7. There was a smell of petrol under certain circumstances.

8. There was a squeal going round left hand corners, which made me suspect the tracking.

9. The engine was very slow to crank if you started it from very hot.

10. The engine overheated in traffic, although the previous owner had fitted an override switch to the cooling fan to cope with it, so this was not urgent.

11. The Petrol Gauge operated in reverse (Empty was Full and vice-versa). After researching this it turned out to be a complicated fix so I decided I would live with it.

12. At some point the brake lights had stopped working.

13. The exhaust was blowing.

I also identified some long-term Projects I wanted to carry out:

1. The dashboard was very limited and could do with smartening up a bit and adding a few things such as a 12V charger to charge my iPhone/Satnav.

2. The boot was just a hinged stainless steel sheet which when removed simply exposed the fuel tank. There was no storage facility.

3. The electrical system was a bit of a nightmare. The fuses and relays were in the passenger footwell and were inaccessible unless you were a contortionist. Nothing was labelled and there was no decent wiring diagram.

4. There was no Handbrake Warning light and that was catching me out.

5. I didn't like the position and design of the horn button and I didn't like the air horn. It seemed a bit 'flash' to me and I would have preferred a normal horn.

6. Driving with the doors off was a bit 'blowy' so I needed to fix some wind deflectors on the windscreen pillars.

So the purpose of this blog is to describe the journey I am undertaking with this beautiful and fun car.

Hope you enjoy reading about the journey as much as I am doing it !!