Every year there is a 'Stilton Cheese' Classic Vehicle Run in Rutland. Up to 300 classic cars (and kit cars) drive a 39 mile route which retraces the original horse-drawn route along quiet country roads to deliver cheeses from Quenby Hall at Hungarton to the Bell Inn at Stilton in Cambridgeshire and all the villages in between.
This year, an extra sightseeing diversion was also added to take in Rockingham Castle and the Harringworth Viaduct.
Couldn't resist it s
o I went with 3 other RHOCar Club Members (and their wives) and we joined the other 300 Classic Cars for the run.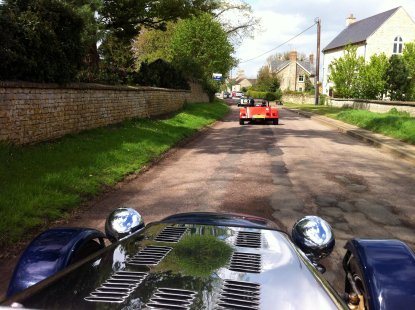 We travelled in convoy from the start to the mid-point at New Lodge Farm for coffee break.
Here is a video taken by one of the other cars (I was behind him). I MUST get myself one of those cameras.
And all lined up together.
Then a final run to the Bell Inn for a late lunch. The weather held off beautifully with only a few drops of rain.
The car covered almost 100 miles in total and behaved impeccably. And she DIDN'T OVERHEAT :-) So it really looks as though I have sorted that out.
Here is a sample of a few other cars.
Even the 'Stig' turned up.
So a great day out, good driving, good company and lovely to see all the other cars and chat with other 'petrol heads'. Roll on next year.